CROSSROADS Language Studio's Newsletter July , 2020 Corona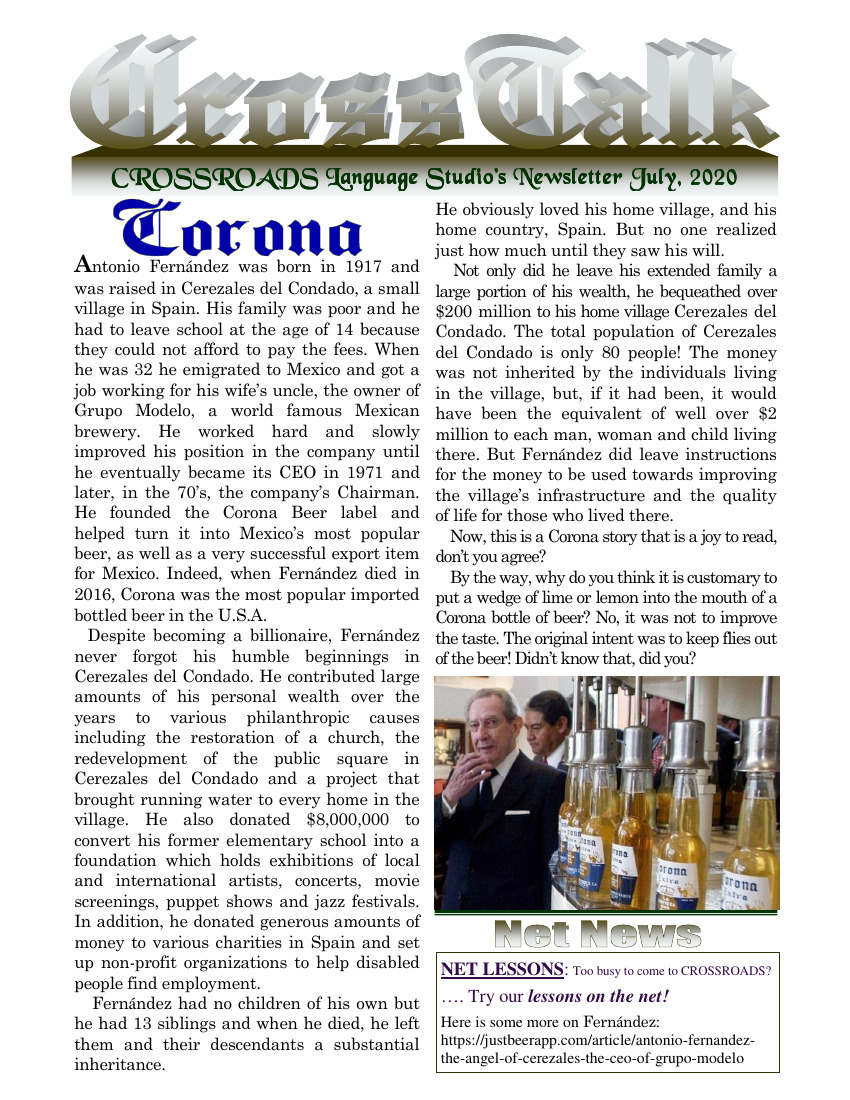 A ntonio Fernández was born in 1917 and was raised in Cerezales del Condado, a small village in Spain. His family was poor and he had to leave school at the age of 14 because they could not afford to pay the fees. When he was 32 he emigrated to Mexico and got a job working for his wife's uncle, the owner of Grupo Modelo, a world famous Mexican brewery. He worked hard and slowly improved his position in the company until he eventually became its CEO in 1971 and later, in the 70's, the company's Chairman. He founded the Corona Beer label and helped turn it into Mexico's most popular beer, as well as a very successful export item for Mexico. Indeed, when Fernández died in 2016, Corona was the most popular imported bottled beer in the U.S.A.
Despite becoming a billionaire, Fernández never forgot his humble beginnings in Cerezales del Condado. He contributed large amounts of his personal wealth over the years to various philanthropic Ella causes including the restoration of a church, the redevelopment of the public square in Cerezales del Condado and a project that Janis brought running water to every home in the village. He also donated $8,000,000 to convert his former elementary school into a foundation which holds exhibitions of local and international artists, concerts, movie screenings, puppet shows and jazz festivals. In addition, he donated generous amounts of money to various charities in Spain and set up non-profit organizations to help disabled people find employment.
Fernández had no children of his own but he had 13 siblings and when he died, he left them and their descendants a substantial inheritance.
He obviously loved his home village, and his home country, Spain. But no one realized just how much until they saw his will.
Not only did he leave his extended family a large portion of his wealth, he bequeathed over $200 million to his home village Cerezales del Condado. The total population of Cerezales del Condado is only 80 people! The money was not inherited by the individuals living in the village, but, if it had been, it would have been the equivalent of well over $2 million to each man, woman and child living there. But Fernández did leave instructions for the money to be used towards improving the village's infrastructure and the quality of life for those who lived there.
Now, this is a Corona story that is a joy to read, don't you agree?
By the way, why do you think it is customary to put a wedge of lime or lemon into the mouth of a Corona bottle of beer? No, it was not to improve the taste. The original intent was to keep flies out of the beer! Didn't know that, did you?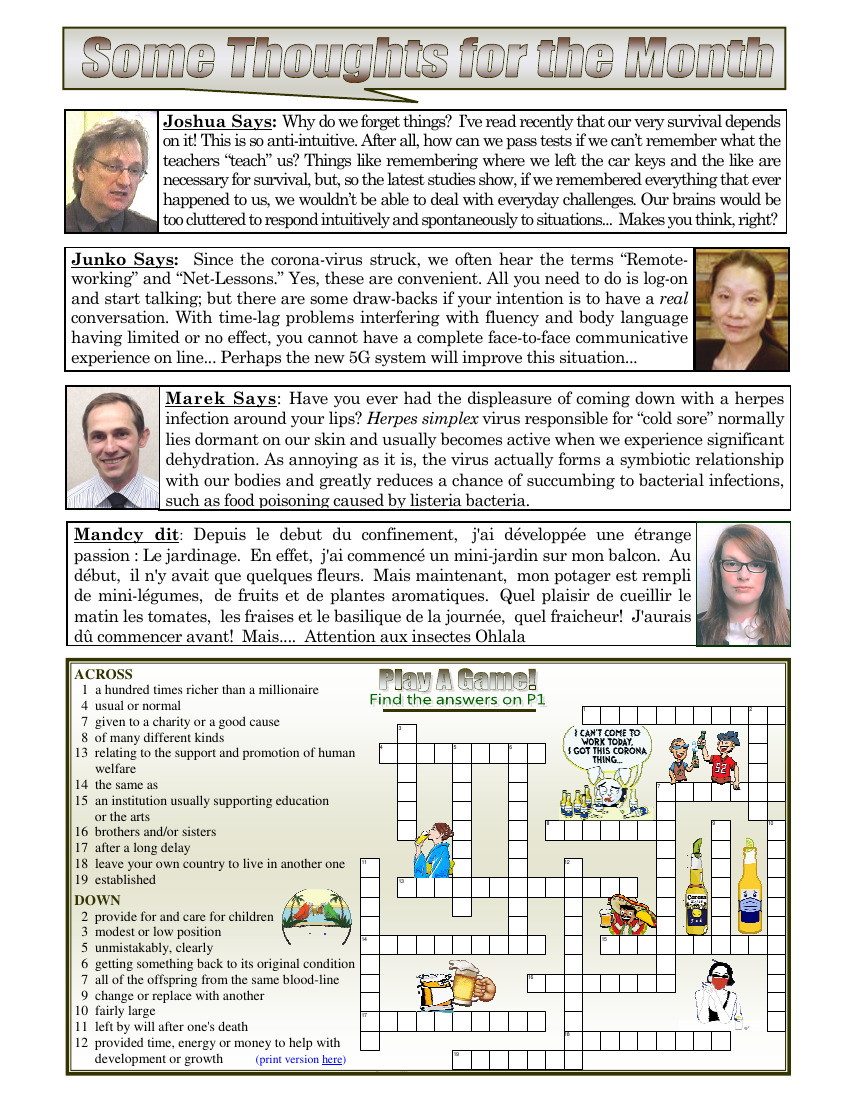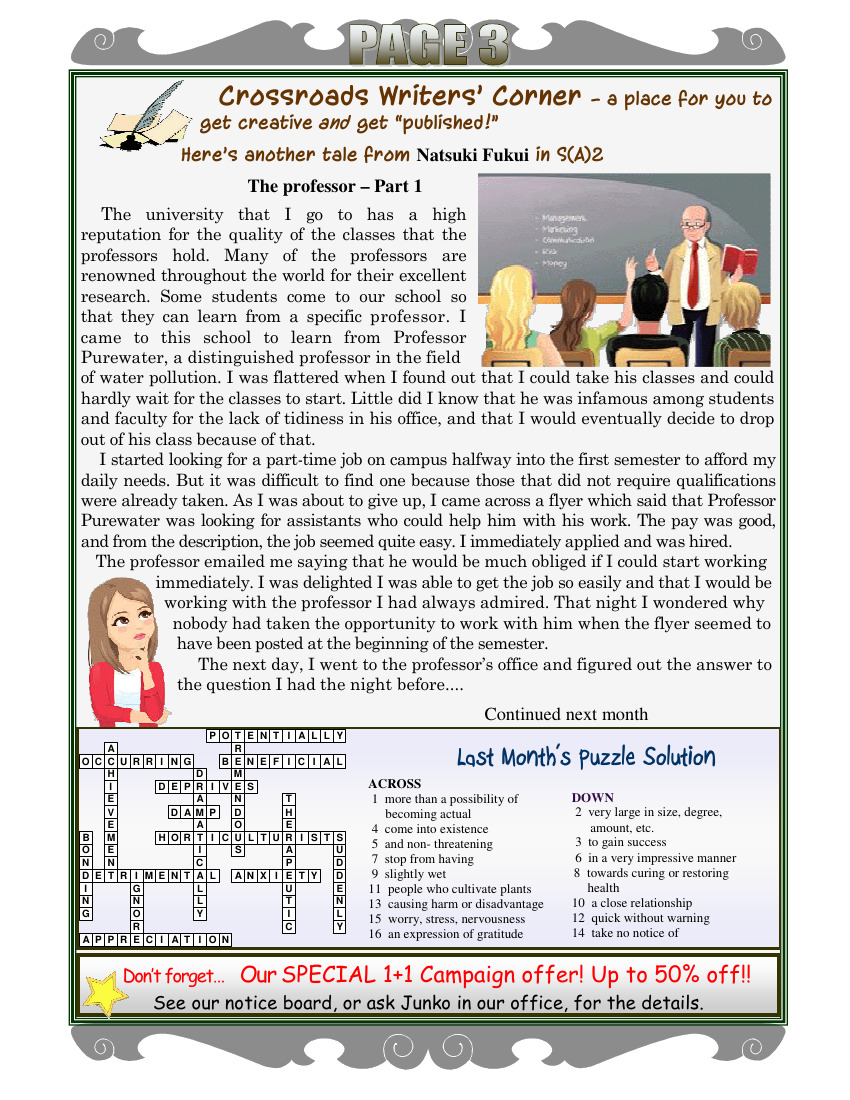 CROSSROADSのNews letterをPDFでダウンロード
CROSSROADSのスタッフから、最新のトピックスやメッセージなどを毎月お届けしています。クロスワードパズルなどのコーナーもあります。