CROSSROADS Language Studio's Newsletter July,2019 " The Rugby World Cup"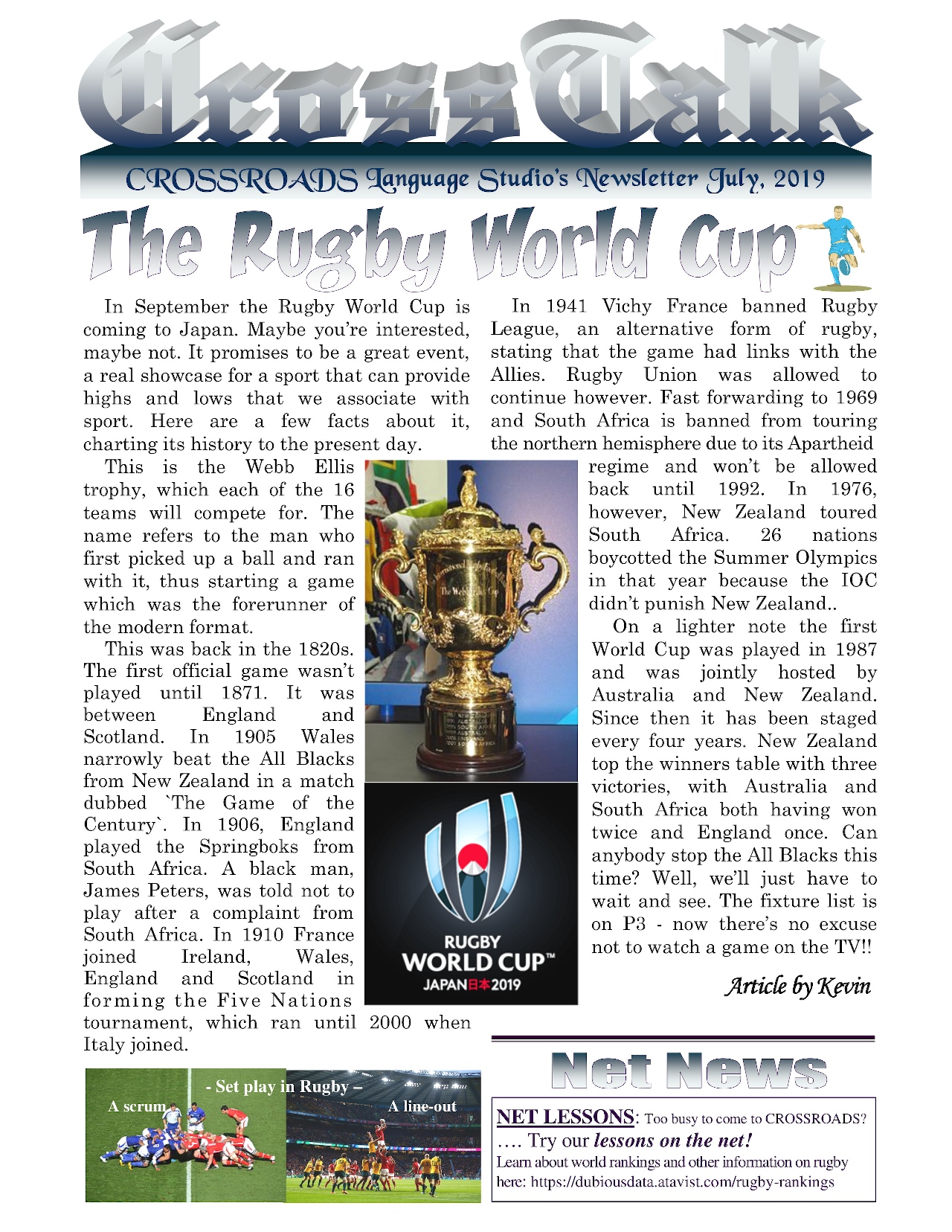 In September the Rugby World Cup is coming to Japan. Maybe you're interested, maybe not. It promises to be a great event, a real showcase for a sport that can provide highs and lows that we associate with sport. Here are a few facts about it, charting its history to the present day.
This is the Webb Ellis trophy, which each of the 16 teams will compete for. The name refers to the man who first picked up a ball and ran with it, thus starting a game which was the forerunner of the modern format.
This was back in the 1820s. The first official game wasn't played until 1871. It was between England and Ella Scotland. In 1905 Wales narrowly beat the All Blacks from New Zealand in a match Janis dubbed `The Game of the Century`. In 1906, England played the Springboks from South Africa. A black man, James Peters, was told not to play after a complaint from South Africa. In 1910 France joined Ireland, Wales, England and Scotland in f o r m i n g t h e F iv e N a t i o n s tournament, which ran until 2000 when Italy joined.
In 1941 Vichy France banned Rugby League, an alternative form of rugby, stating that the game had links with the Allies. Rugby Union was allowed to continue however. Fast forwarding to 1969 and South Africa is banned from touring the northern hemisphere due to its Apartheid regime and won't be allowed back until 1992. In 1976, however, New Zealand toured South Africa. 26 nations boycotted the Summer Olympics in that year because the IOC didn't punish New Zealand..
On a lighter note the first World Cup was played in 1987 and was jointly hosted by Australia and New Zealand. Since then it has been staged every four years. New Zealand top the winners table with three victories, with Australia and South Africa both having won twice and England once. Can anybody stop the All Blacks this time? Well, we'll just have to wait and see. The fixture list is on P3 – now there's no excuse not to watch a game on the TV!!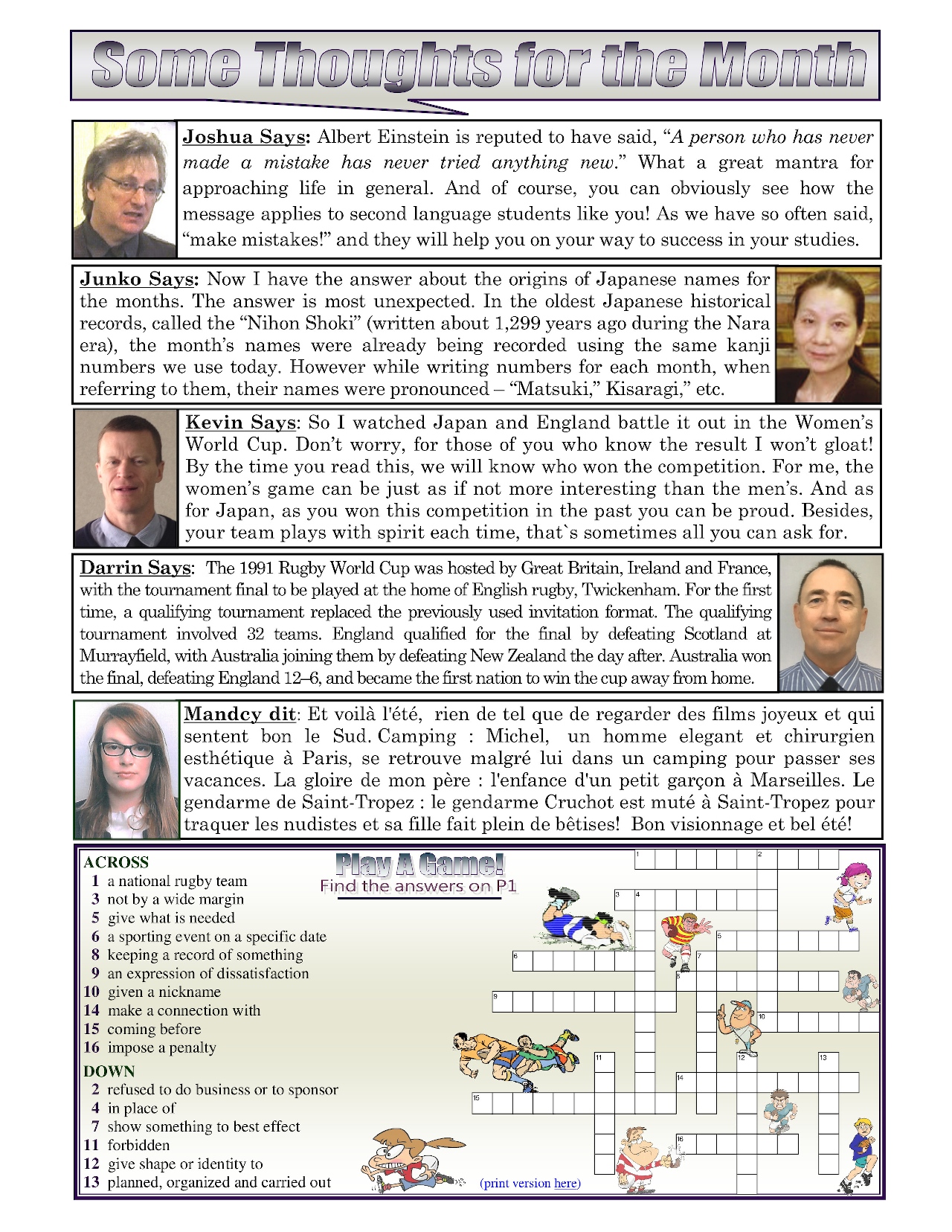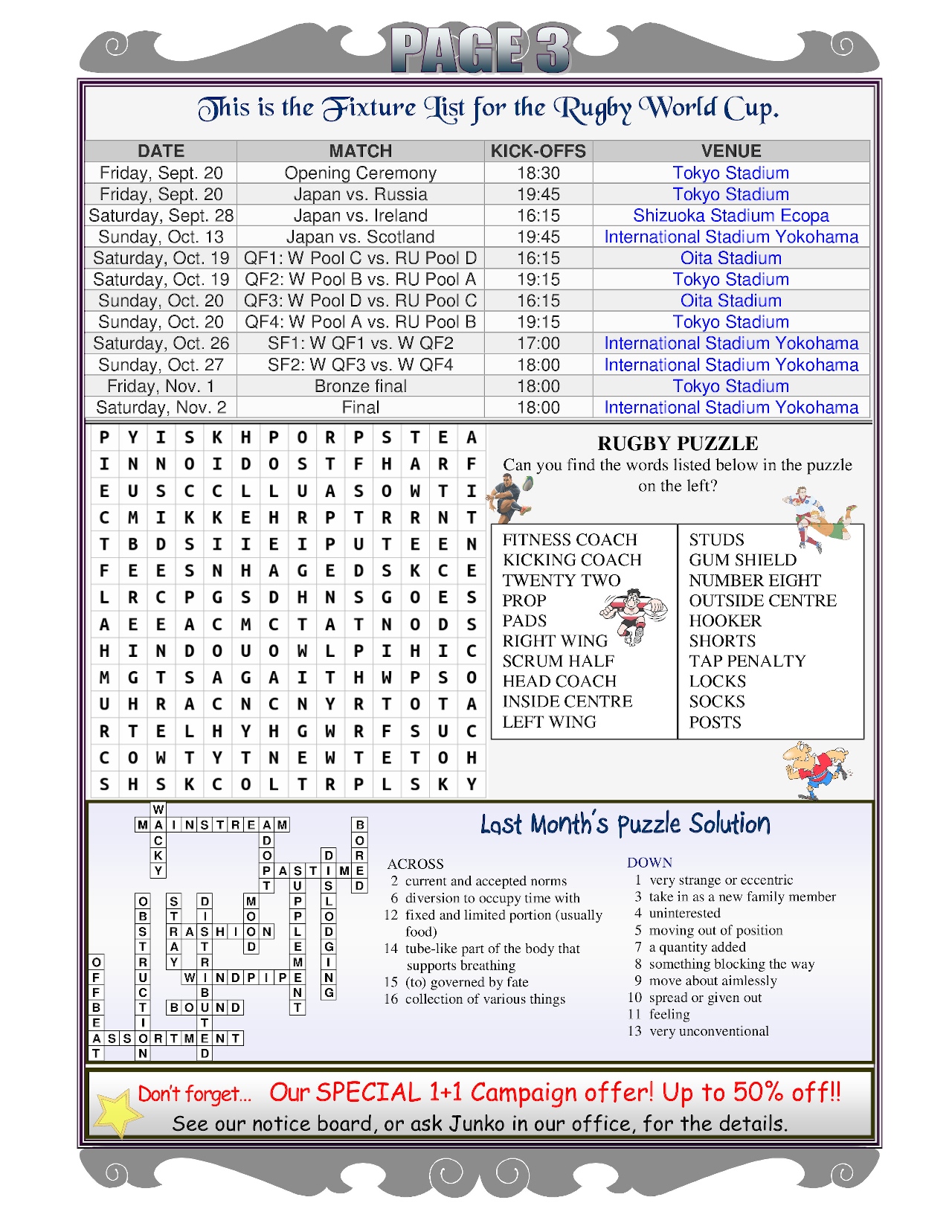 CROSSROADSのNews letterをPDFでダウンロード
CROSSROADSのスタッフから、最新のトピックスやメッセージなどを毎月お届けしています。クロスワードパズルなどのコーナーもあります。