CROSSROADS Language Studio's Newsletter November, 2018 "Shopping"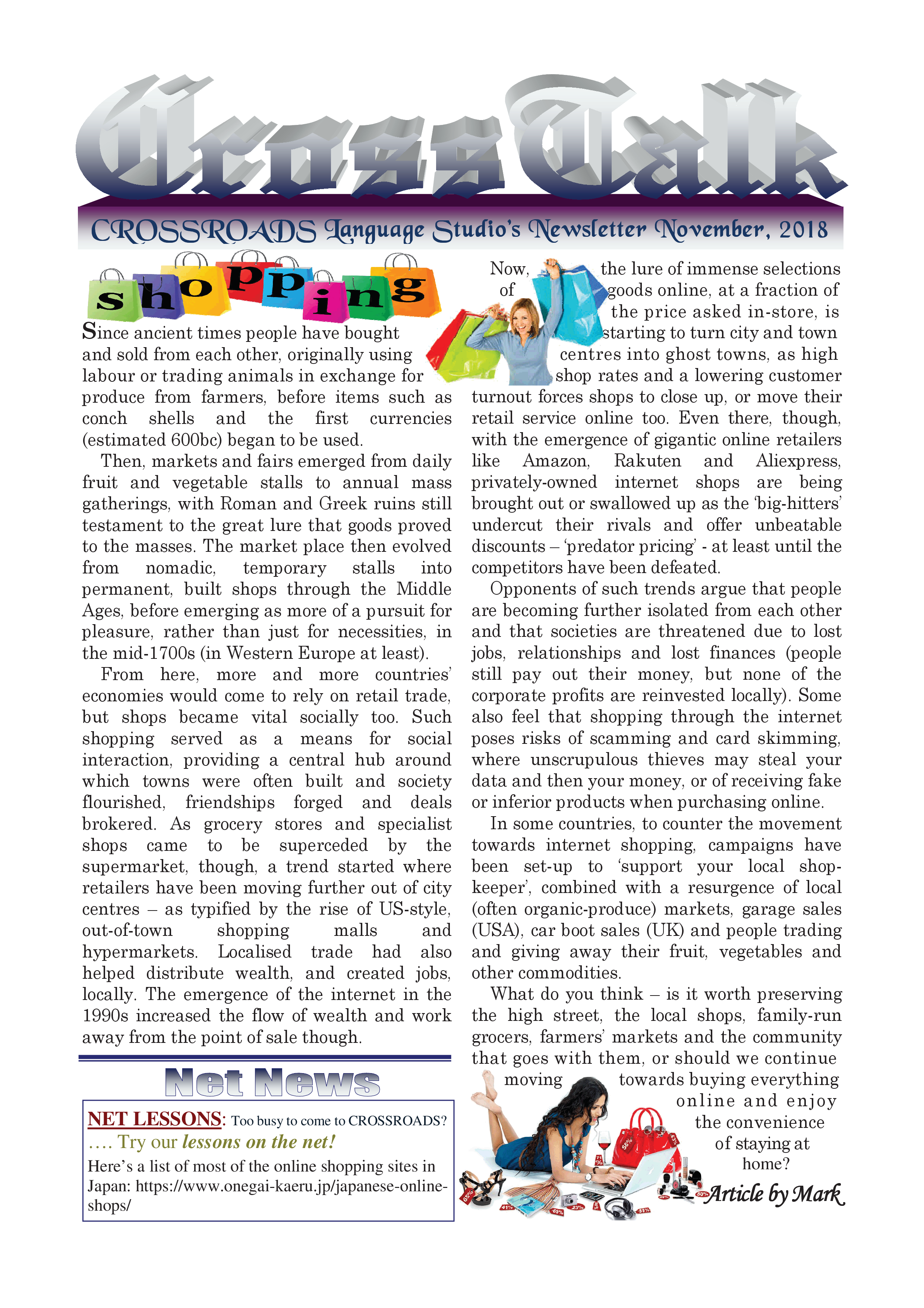 Since ancient times people have bought and sold from each other, originally using labour or trading animals in exchange for produce from farmers, before items such as conch shells and the first currencies (estimated 600bc) began to be used.
Then, markets and fairs emerged from daily fruit and vegetable stalls to annual mass gatherings, with Roman and Greek ruins still testament to the great lure that goods proved to the masses. The market place then evolved from nomadic, temporary stalls into permanent, built shops through the Middle Ages, before emerging as more of a pursuit for pleasure, rather than just for necessities, in the mid-1700s (in Western Europe at least).
From here, more and more countries' economies would come to rely on retail trade, but shops became vital socially too. Such shopping served as a means for social interaction, providing a central hub around which towns were often built and society flourished, friendships forged and deals brokered. As grocery stores and specialist shops came to be superceded by the supermarket, though, a trend started where retailers have been moving further out of city centres – as typified by the rise of US-style, out-of-town shopping malls and hypermarkets. Localised trade had also helped distribute wealth, and created jobs, locally. The emergence of the internet in the 1990s increased the flow of wealth and work away from the point of sale though.
Now, the lure of immense selections of goods online, at a fraction of the price asked in-store, is starting to turn city and town centres into ghost towns, as high shop rates and a lowering customer turnout forces shops to close up, or move their retail service online too. Even there, though, with the emergence of gigantic online retailers like Amazon, Rakuten and Aliexpress, privately-owned internet shops are being brought out or swallowed up as the 'big-hitters' undercut their rivals and offer unbeatable discounts – 'predator pricing' – at least until the competitors have been defeated.
Opponents of such trends argue that people are becoming further isolated from each other and that societies are threatened due to lost jobs, relationships and lost finances (people still pay out their money, but none of the corporate profits are reinvested locally). Some also feel that shopping through the internet poses risks of scamming and card skimming, where unscrupulous thieves may steal your data and then your money, or of receiving fake or inferior products when purchasing online.
In some countries, to counter the movement towards internet shopping, campaigns have been set-up to 'support your local shopkeeper', combined with a resurgence of local (often organic-produce) markets, garage sales (USA), car boot sales (UK) and people trading and giving away their fruit, vegetables and other commodities.
What do you think – is it worth preserving the high street,the local shops, family-run grocers, farmers' markets and the community that goes with them, or should we continue moving towards buying everything onl ine and enjoy the convenience of staying at home?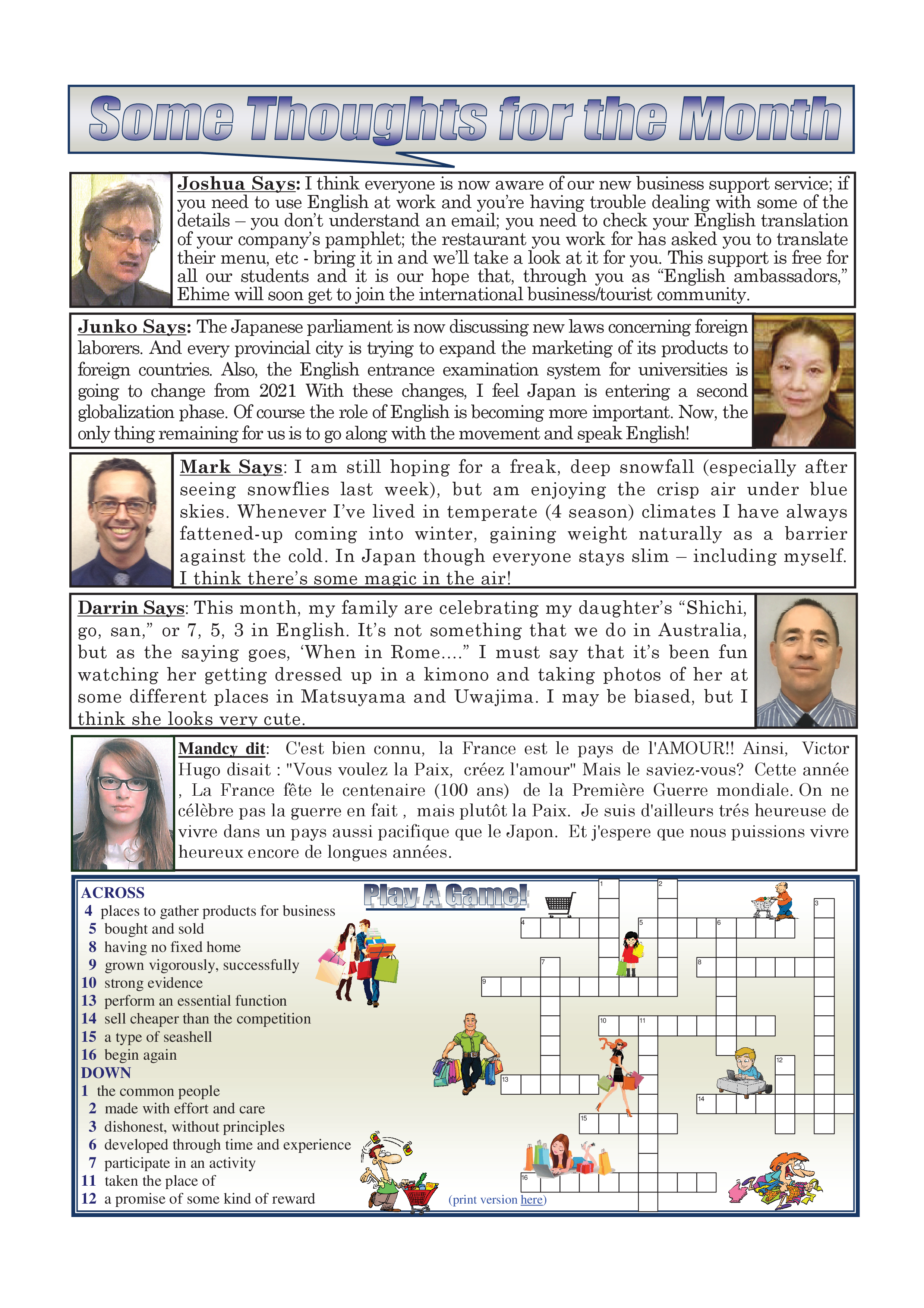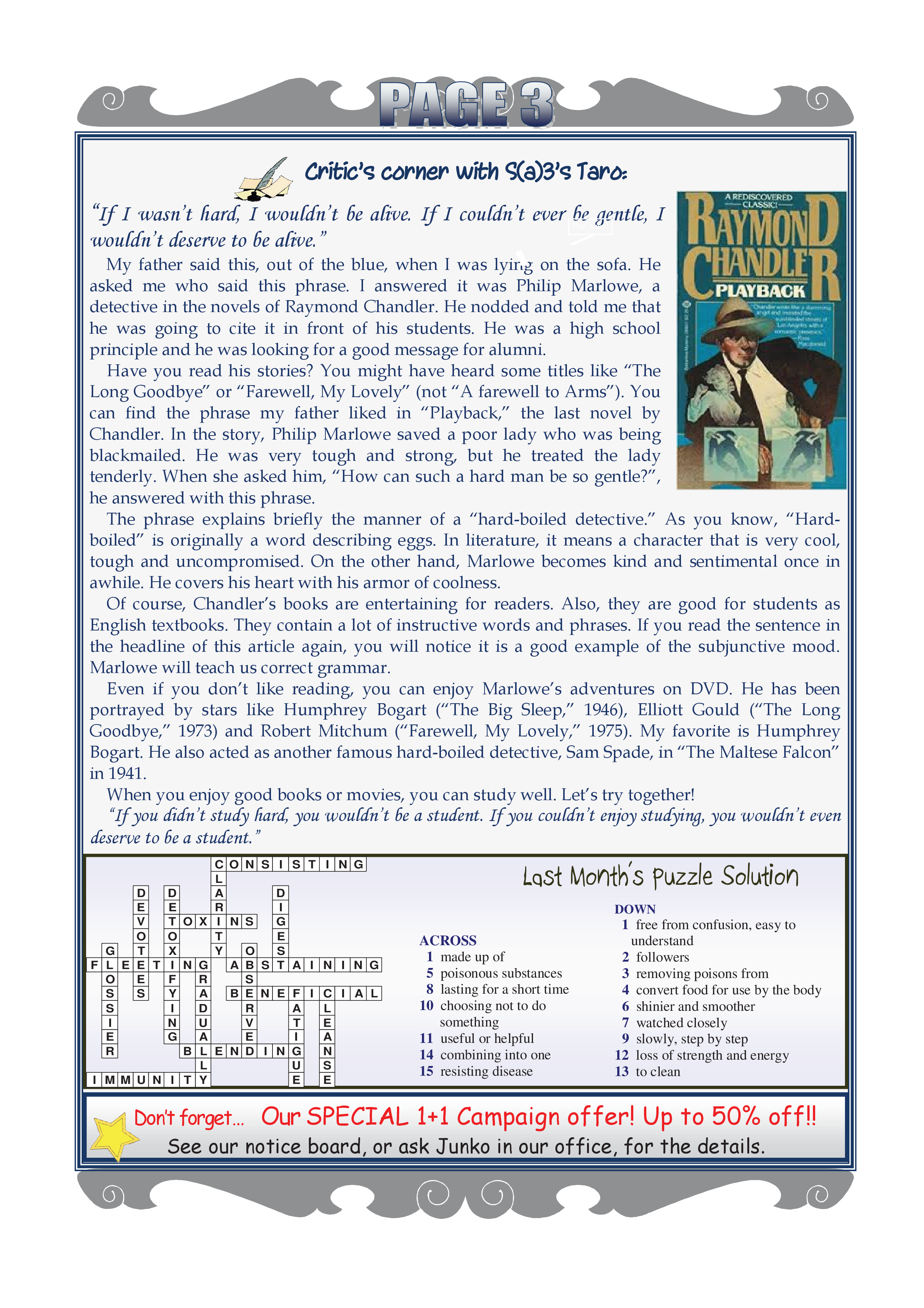 CROSSROADSのNews letterをPDFでダウンロード
CROSSROADSのスタッフから、最新のトピックスやメッセージなどを毎月お届けしています。クロスワードパズルなどのコーナーもあります。